My meeting with Elvis


English Version Version franšaise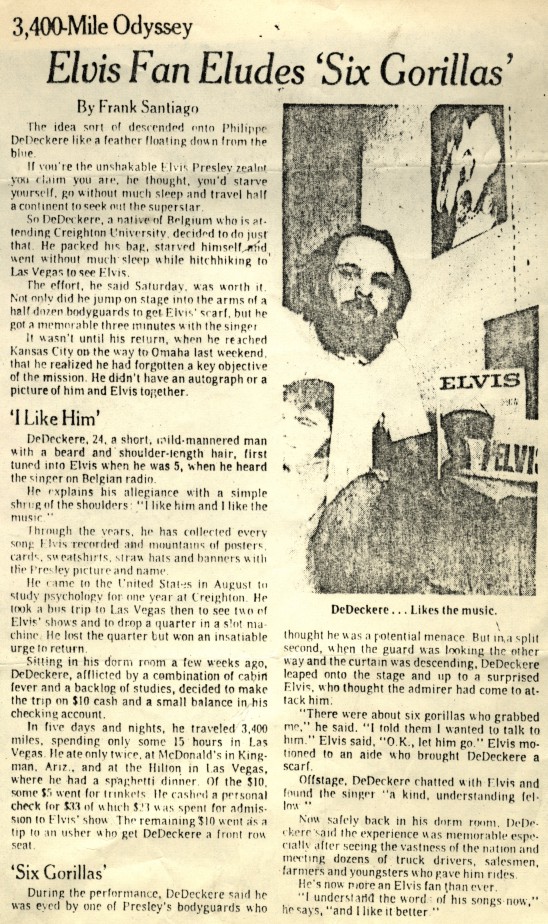 From the Omaha World Herald



First off all, I make a little presentation. I live in Belgium and of course I am a big big Elvis' fan.
In 1974 I was graduate in psychology here in Brussels and I wanted to do something more so I decided to make 1 year of study in psychology in the United States. I have chosen to go to Omaha Nebraska at Creighton University.

On march 1975 it was eastern vacation so I was in vacation from thursday March 27 until monday evening March 31. I had the blues because I was a long way from home. I missed my familly and I knew that Elvis was singing in Las Vegas.
I begin to think about the possibilities to go to Vegas but I realize that it was very far and that I didn't have much time and much money to make the way because Tuesday I had to go back to the university for some course.
I looked to the price of the plane to go there but I couldn't afford it. So I check the timetable of the greyhound bus but it was still too much money for me and also I didn't have enough time to make the trip.
So I thought there was only one way to go: hitchhiking.
But I realize also that with a car it was also difficult because 1700 miles from Omaha to Vegas it is a very long way but I didn't know how much miles there was between Omaha and Vegas until I read the newspaper.
I only have make the count that it should go quicker with a car and with luck and as I always have luck in my life I thought I can make it.

I must think now to the payment of the trip and the ticket. I had just 10 dollars in my pocket and on my bank account what I hold for my personal expenses until the arrival of the next mandate of my parents.
I knew personnally a little the director of my bank and I already had required him once an advance that received without problem. I telephoned for him to have a 40 dollars in advance.
It asked me my why and when I said to him that I wish to go to Vegas to see Elvis he says that I can go to the bank to take the money.
But as there was a half hour of walk to arrive there I didn't have the time I asked him to put the money on my account. This what he did. I looked on the map and I make my itinerary.
Ready I wanted to leave but my buddies said that I was full crazy and they have all tried to reason me but it had nothing to do.
Furthermore it was spring but there was still snow and the road by the shortest way again was blocked by snow benches. It was therefore completely impossible that I can arrive.
The shortest way was to go west until Salt Lake City and then down towards the south until Vegas.
As I was determined to go, John a class mate, counsell me to take directly to the south until Okhlahoma City and then to go west until Vegas. On this way I would not find any blocked road with snow benches.
It was a little longer but it was the only possible way if I want really arrive. There I realized that he was not joking and I listened to him. I made a new itinerary. It was at this moment 16h45. I got ready for the big departure. My buddies kept me then so that I wait for 17h15 the opening of the dining room and that I eat long before to leave because they knew me a little and to convince me they proposed me to drive me by car until the entry of the freeway.
In these conditions I waited and at 17h15 I was at table and I ate the more that I was able to.
We had hardly finished to eat that the sirens of alarm started functioning.

What happens again? In fact it was an alert to the tornado. Interdiction to leave. Everybody had to remain in the ground floor and had to depart of the windows.

It was for me the first time that I knew it. I was only an alert but it last until 20h30.

At 20h30 my buddy proposed me to drive me the following day morning to the entry of the freeway but I said that I wanted to leave immediately.
At 21h I was on the entry of the freeway and I began to make the htichhiking. In the beginning I waited well patiently but at 23h I was always there and I began to have very cold.
I even thought about to go back the same way and to go back back to the university but I had said too much that I would arrive there then I waited again. At midnight a car stopped and asked me for my path and he makes 2 km of it there were a bifurcation and the drivers farther didn't know where I went. The driver put down me then to this bifurcation. Well it's made I'm gone. I wait then but it doesn't go better. It's already 4h of the morning it rains and I always wait to this bifurcation.
I was really tired to wait. To protect me from rain I put me into 2 bags trash cans and I lay down on the floor.
Hardly lying I hear a big buzz and a thick truck stopped and drove me to the following city, Kansas City.

From this moment luck has me smiles and I didn't wait more ever a long time between 2 cars.
Friday evening a station wagon takes me in stop and seeing that I was exhausted the driver of the station wagon installs me on an air bed and I fall asleep.
The following day morning the driver wakes me up and drop me out because he was going on another way. I was not anymore very far from Vegas. I continue to make hitchhiking and at noon I arrived to the big city of the game. I knew a few Vegas to have been there in previous August. (also to see Elvis).

There were 25 degrees centigrade. I was hot because I was dressed again with sweaters since my departure of Omaha in the cold weather.

I surrendered in the Hilton hotel where Elvis occurred. I went directly to the bank of the hotel to take money there in order to pay for the ticket of entry and the gratuity to the boy giving the places.
There I had a few small problems to withdraw money because I didn't have card of bank and as it was Saturday my bank was closed.
The banker after many discussions and as explaining my journey finally accepted to give me 33 dollars but while specifying me well that he won't make it two times and that therefore I had to take everything that I had need.

I was directly at the ticket window to take my place that cost 23 dollars and I was afraid because I had reserved a place by telephone for Sunday and not for Saturday. I had foreseen to arrive Sunday and to go back for Wednesday evening. But as it was only a place I succeeded in having one of it.

Elvis made 2 shows per day: the cocktail show at 21h where one also served a meal and at midnight where there were only some drinks.
I had chosen the midnight show because often Elvis makes a show a little longer because there is not a following spectacle.
Now that I had my place. I have to wait for the opening of the doors that got used at 20h for the cocktail show and at 23h for the midnight show.

While waiting for the opening I was to the snack of the Hilton where I ate a spaghetti (it was the cheapest).

Every hotel possesses its room of game with everything that one can imagine and multiple rows of coin's machine. It is absolutely impressive. I put a piece in one machine but I didn't win anything.

I had only to wait for the opening of the doors so much waited.
At 15h I stand before the door of entry and begin the long waiting. I was in fact the first to wait. In Vegas Elvis sang before a lot more aged public that at the time of his different tours.
In Vegas many people come to play and after to see a spectacle and are not necessarily of big fan.
I was always all alone in front of this door but it didn't matter because I wanted to be the first to enter. Around 17h people began to arrive.
Every time I asked them for which shows they came and they answered me for the first show and then I told them that they could pass before me because I expected for the second show.

It is only toward 20h that arrived then evidently for the second show and then they could remain behind me.

At 23h it's the moment, the door opens and the porter indicates me my place; I give him a small gratuity to be more near, he indicates me a nearer place then; I give back him a gratuity to be again nearer and he follow nearer but not again enough;
I give again a gratuity and he shows me a chair all against the stage a little on the right side. There I was happy and anyway I didn't have any money more. There I also had a lot luck because arrived to the first rank with solely 10 dollars of gratuity to the total it is already a miracle. It is necessary to say that I knew how to show me persuasive.

I now wait for midnight that the spectacle begins. At midnight there was a singer with a group but I must say that I only listened half because I evidently waited for Elvis. It ends and there is a small intermission then.

Lights die out and one hears the intro Also Sprach Zarathustra 2001 Odyssey of the space. That is it that is the moment HE arrives.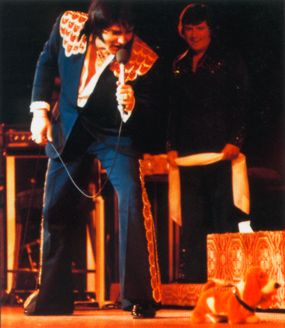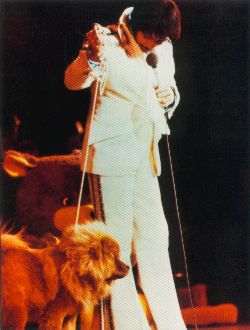 I am nervous enough because I know that he is going to arrive at any moment. The first notes of See See Ridder begin but he is still not there.

Suddenly he emerges on the stage and such an animal in cage throwing himself on his prey, he dives on his microphone and begins the first words of the song. Big applause of the public. It was divine. I had short breath. Then he continues with I Got A Woman and Amen that he finished as to his habit while imitating a plane. Comes then Love Me, Big Boss Man, Love Me Tender. Elvis was very quiet and spoke to the public little contrary to the shows that I had seen in August 74. He seemed very serene and really in big shape while mastering his songs very well.
He also sang the Wonder Of You and How Great Thou Art, my favorite gospel especially when he brings up the voice to sing it.

I was really very close to the stage and I was even able to lean on it. I saw Elvis to about 4 meter of me. I had an excellent view of all: Elvis, the musicians and the Choirs. As choirs ther was the group masculine Voice, the feminine group the Sweet Inspiraions, J.D. Sumner And the Stamps and soloist Kathy Westmoreland.

A few behind me, to the height of the end of the curtains, I had noticed a bodyguard and I was thinking that would be hard to jump on the stage. With this guard, as soon as I pretend to move toward the stage, he would notice it directly, it is not even the pain to try. Then Elvis sings Can't Help Falling In Love and there is that is the end of the spectacle because Elvis always finishes his shows by this song and I was resigned that it would be impossible to jump on the stage. I had already put back my jacket when all of a sudden the curtains began to move one meter because the song was finished and the curtain was going to close itself. The curtain was placed just before the bodyguard. I didn't think one second and I dove on the stage but I had hardly made a step that the bodyguard catches me and grasps me. It was a professional and I was completely belt but without any brutality.

Elvis evidently saw the ssenery and while seeing me he has throw: " OK let him go ". I approached then the King and I must say that my heart was beating at 100 on time. Elvis took me in hisarms s and gave me a scarf. And under the applause of the public I joined my place with my trophy.

I staled myself and I blew a stroke. I was evidently in heaven. I kept my scarf well preciously in trophy. I waited even seated on my chair because I was stunned completely and I didn't come back from it. I saw the King from very near.

Everybody left the room and the stage was empty. Elvis had left and the musicians followed. To quoted of the stage had a grid (closed evidently) and I saw Colonel Parker and Joe Esposito and I asked him and asked again if I could see him only 2 minutes while explaining that I was Belgian and that I come from Omaha in hitchhiking and he answered me that he would see. Then he came back to tell me that it was okay but not a long time.

I was indeed in my small shoes. I saw it and greet him. I evidently told him that he had just made a superb show and I asked him when he was intended to come once in Europe. He/it answered me that it was in the projects and that he would like to come. (At the time it was always in the projects that he comes in Europe).

It happened very quickly and then I had to leave him. Then I didn't hold me anymore, I was stunned completely. I surrendered in one lounges of the hotel and I tried to take my breath and my minds. I didn't come back from it. It was the evening of my life.

I rest then in one armchairs of the lounge because I was indeed exhausted. I fell asleep. Then it was necessary to think about the return, I really not wanted but I can't remain there either. I turned in circle without wanting indeed to leave this magic place.

To finish I decided to leave because it was now Sunday morning. I redid the hitchhiking in the contrary sense. Toward noon I was stopped in Kingman before a McDonald then I benefitted from this to eat a hamburger quickly. From there I had luck because a truck made the crossing of west to east and he took me until Okhlahoma City. It was a long road with the same truck. But it took more of time because the truck driver stopped the whole time to rest but it was the cadet of my worries and it also allowed me to rest a little bit. Arrived at Okhlahoma City, I have continue northbound toward Kansas City but I must say that I had a little less luck because it sometimes dragged to have a new lift but I had nearly arrived. And there was the return of the cold weather then also with snow.

To finish, I am arrived shortly before 18h. in Omaha and as I saw that I would not have the time anymore to arrive before 18h. to the university, I asked the driver if he wanted to put down me really at the university and he made it really gently. I hurried then toward the restaurant.

Evidently as soon as I arrived there everybody wanted to know how it had happened and I answered that I first ate because I must say that it was Tuesday evening and that I had not eaten more appropriately since the previous Thursday quite excepted a small spaghetti to the Hilton Saturday noon and a hamburger in Kingman Sunday noon.

I told all then what had happened, the journey, the spectacle, the jump on the stage and the meeting with the King and always while holding my trophy around my neck. It was a simple non signed scarf. In Vegas he gave there often non signed scarfs and sometimes some signed, it depended. I had the opportunity by after to have other scarf and those signed but this was not the same thing.

I had the visit of the studying journalists of the university that wanted to relate the epic in the newspaper of the university. The article was not appeared yet that some journalists of the Omaha World Herald (newspaper of the region) came me interviewee. The article decorated in the newspaper and following this article the studying journalists come back to make a thicker article. Sunday according to the release of the article I received a telephone call of the radio of Omaha that interviewed me by telephone.

It finishes my story of my meeting with Elvis. I keep very very good memories, as well of the travel, the spectacle, as well of the jumping on the stage and the meeting with Elvis.

I didn't have a camera at that moment but I must say that it is not a regret because in fact for me, the photos, they are in my head.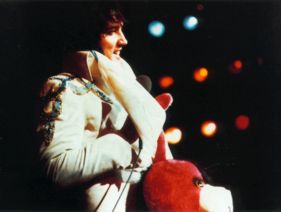 Home