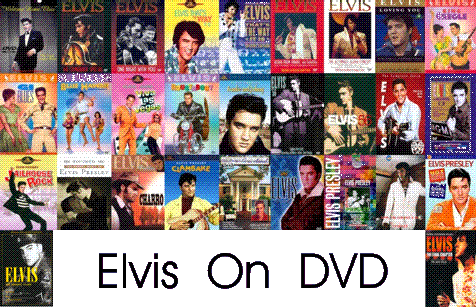 DVD List



ALL ZONE - ZONE FREE


Elvis In Hollywood





ALL ZONE - ZONE FREE - NTSC


Elvis '56

Elvis The Complete Story - Clips From Films

Welcome Home Elvis - The Complete Frank Sinatra Show

Elvis '68 Comeback Special

Elvis One Night With You

Elvis Aloha From Hawaii, Via Satellite - The Historic 1973 Television Special

Elvis The Alternate Aloha Concert

Elvis Presley's Graceland (Only available at Graceland )

He Touched Me (2 DVD )

Elvis The Missing Years (1 DVD + 1 audio CD)

Elvis the Final Chapter




ZONE 1 - NTSC


Elvis That's The Way It Is - 1st version

Elvis That's The Way It Is - Special Edition

King Creole

Jailhouse Rock

G.I. Blues

Blue Hawaii

Viva Las Vegas

Roustabout

Frankie And Johnny

Clambake

Charro

Remembering Elvis - A Documentary




ALL ZONE - ZONE FREE - PAL


Elvis' 56


Hot Shots And Cool Clips - Vol 1.


Elvis, The Colonel & Me




ZONE 2 - PAL



Loving You


Elvis Presley




New coming




See the trailer




Some Information




DVD Region Encoding


***PLEASE NOTE***

The Warner and Columbia film studios have recently added Regional Coding Enhancement (RCE) to some Region 1 titles such as The Patriot and The Perfect Storm. Some people have had problems playing RCE discs on their "region-free" DVD players.
Because DVD is subject to the same issues of piracy and market sharing that govern the entire video industry, region encoding was introduced to set geopolitical boundaries for compatibility of DVDs and players.
For instance, a DVD encoded for Region 1 can only be played on a Region 1 (United States and Canada) DVD player.
There are currently six global DVD regions and DVD manufacturers can encode their product to play in any combination of regions.
The vast majority of DVDs are Region 1 or 2 compatible, and many DVDs are "all region" for playback on any player, anywhere.



DVD Video Formats: What's the difference between PAL and NTSC?
There are two television display systems in commercial use: PAL (common in Europe and parts of Asia) delivers a scanning/frame rate of 25 frames per second, while NTSC (used in the U.S. and Canada) delivers a scanning/frame rate of 29.97 frames per second. Currently there are no DVD players that convert from PAL to NTSC or vice versa.

However, many PAL DVD players are able to display NTSC video on televisions that support what is known as the 60-Hz PAL system. Almost all the new televisions support the 60-Hz Pal

For all DVD players in the U.S. and Canada, NTSC is the exclusive system in use.



DVD Player Region Codes and Corresponding Country List
Zone 1: USA, Canada
Zone 2: West Europe, Japan and South Africa
Zone 3: South East Asia
Zone 4: Australia and Spanish America
Zone 5: Russia, East Europe and Africa
Zone 6: China